My Lead System Pro Review
Imagine, waking up every morning, logging into your My Lead System Pro account, and discovering 5-10 new FREE leads came in on complete auto pilot…WHILE YOU WERE ASLEEP!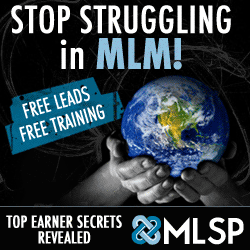 Sound too good to be true?
Well it's not. It happens to me daily.
The greatest part about utilizing a completely automated system, other than free leads every day, is that I have finally been able to create REAL leverage through multiple streams of income. You see, occasionally one of those leads that comes in signs up onto my MLSP team or buys a product from me. It's a wonderful thing!
We hear it all the time…the lure of 'multiple streams' of income provided through the MLM industry. But in all truthfulness, very few people actually know how to accomplish this. Not only does MLSP teach you how to generate leads, but it teaches you how to generate multiple streams of income by becoming a master marketer and a leader.
The new people that come into my team with My Lead System Pro become part of my new and ever growing warm market. This is just the beginning of a long and lasting relationship and partnership. Every so often someone contacts me directly to join my in my primary MLM company because of the level of value and training we provide through the MLSP system.
My role as a leader within the My Lead System Pro community then becomes to support and mentor people to help them achieve success. It's just like my martial arts students. As long as my students are taking action, if I cannot properly guide them through the system, then I fail as an instructor. It is imperative that whatever roadblocks are holding you back, I help you break them down and guide you to that next level.
To build a house, you are going to need the proper tools to do so. If you don't have those tools, the house will never get built. The truth, in my humble opinion, is that My Lead System Pro provides the tools and support so that you can build a solid foundation to truly explode your business.
Action breeds confidence and courage. It's time to get busy. If you choose to join me on this journey then let's work together and make serious things happen!
My Lead System Pro Review: Lets Get Started!
Chances are, if you've found your way to this My Lead System Pro Review you are seeking a new way of automating your recruiting and selling activities. Or you are here to discover how to really brand yourself on the internet. Or you just flat out want to learn how to become an internet marketing Jedi Master.
Whatever your reason, I've got what you need. You need look no further than this My Lead System Pro Review!
Before we jump into this My Lead System Pro Review, here's a little about myself:
Started with My Lead System Pro in the summer of 2010.
Generated 25 leads in my first week with MLSP.
Been involved in Network Marketing since 2001.
Have been teaching martial arts since 2004.
I have been personally mentored and coached by the owners and top producers in My Lead System Pro! (If you wanna be the best you have to learn from the best)
*I look at MLSP like I look at martial arts. I would never go and learn martial arts from a white or yellow belt. I would only seek people who have mastered the art to learn from. Well, I've done the same thing with My Lead System Pro. I am getting my black belt in MLSP from 10th degree black belt internet network marketers. If you want to be the best, you must learn from the best, PERIOD! My goal, to promote my own MLSP black belts, not tens…but hundreds if not thousands!
So that's me in a nutshell. Now lets get into the My Lead System Pro Review!
My Lead System Pro Review: The System
You may have the perception that MyLeadSystemPro is an online lead generation system. Well, that's definitely true but you
must understand that MLSP is much, much more than that. My Lead System Pro is also a full-out Network Marketing training, personal growth, and leadership development platform as well! Yes, they teach more than just online marketing. There is literally an endless supply of sales, prospecting, marketing, and closing trainings available to MLSP members as well.
Sounds overwhelming doesn't it? Well it's really not…
The Key to MLSP is to K. I. S. S. = Keep It Super Simple. Master one marketing method, monetize it and move on to another marketing method and repeat.
How will this benefit you?
Apply what you already know about Network Marketing:
Connect and expose as many people to your business as possible.
Show them how they can benefit.
Get them to see the bigger picture.
Get a Yes or NO answer.
Repeat.
That simple 5 step guide I have literally paid thousands for in big international trainings. So I'm offering you value right there. But if you are relatively new to the MLM industry then you will soon discover that it's not as easy as just jotting down these 5 principles. You see, eventually everyone runs out of people to talk to.
What My Lead System Pro can do for you, besides provide you an unlimited virtual warm market to talk to, is to DRAMATICALLY INCREASE your number of exposures. Instead of exposing dozens of people to your business, products, services or promotions, you can exponentially increase your exposures into the hundreds, thousands, and even tens of thousands of exposures. The best part about it all is whether or not they join you right now, you are building a huge presence online and people will begin to recognize your face. It's simply POWERFUL.
Now What?
It's time you learn how to begin attracting people to you. Transform from the hunter into the hunted. My Lead System Pro and I will teach you step-by-step how to do it all. It's a complete no-brainer. I'm not saying there wont be a learning curve or some challenges along the way. I'm saying that once you understand how powerful this system is, you'll soon realize you'd be stupid not to do it!
Let me save you a lot of heartache before you make the same mistakes I did.
NEVER pay for leads
NEVER hand out business opportunity fliers to complete strangers
NEVER pay for running ads you cannot track and tweak
NEVER spam your FaceBook or Twitter friends
NEVER pressure friends and family to 'get-in' before the window closes…
NEVER hype people to join your biz…
My Lead System Pro Review: The Advantage

STOP WASTING YOUR TIME, ENERGY AND HARD EARNED MONEY!!!!
I am not saying that these things will never work because some do occasionally. The problem is that they are not very duplicatable and they will often have a negative effect and repel people. I like when people come to me and ask "geez, I've been seeing you doing so well, what the heck are you up to?" This happens to me all the time now because I've stopped chasing my warm market. My posture has transformed. Now my warm market sees me making it and realize I don't NEED them, I WANT them. I don't want to get rich OFF of them, I want to get rich WITH them. See the powerful shift in mindset? That is attraction marketing at it's finest…and I owe it all to My Lead System Pro.
So if you must go ahead and try those things I gave up… Just remember I warned you!! If you choose to go down that road it will be lined with rejection and heartache.
Or here's an idea, utilize MLSP and Attraction Marketing and begin having people flocking to you and anything you offer!
Hmmmm…..I told you it was a no-brainer!
My Lead System Pro Review: MLSP & Attraction Marketing Are the Same!
The reason for writing this My Lead System Pro Review is because I have had many people asking me why MLSP is better than the other online systems?
The answer to that question is quite simple. Other systems just teach you online marketing and give you a bunch of slick capture pages. What they don't teach you however is Attraction Marketing and how to apply it! (These free videos will teach you the basics of Attraction Marketing) With MyLeadSystemPro you will literally have the hottest prospects chasing you!
Not only does My Lead System Pro utilize Attraction Marketing to attract hot prospects to you and your opportunity, it also provides the most cutting-edge tools, products and trainings so that even if a lead says no to your MLM company, you can still profit off of them. MLSP gives you the opportunity to make money whether or not someone joins your business. Have I mentioned yet how powerful this is???
97% of Network Marketers FAIL! You heard me right, 97%… MyLeadSystemPro is designed to attract those 97% who are flat out tired, frustrated and on the verge of quitting. We provide a solution and most importantly HOPE! We give the tools to overcome what is stopping 97% of people from achieving their dreams. Just a few of these tools and trainings are: lead generation, self branding YOU Inc., prospecting, recruiting, establishing an online presence, tactical & strategic marketing methods and much, much more.
As an MLSP leader you can now brand your self as a leader by offering some of our trainings up front for FREE. This will attract other frustrated networkers to you and the other trainings you may have to offer through MLSP.
You end up having attracted people who are dead serious about building a Network Marketing business. They show up ready to pay, credit card in hand, throwing money at you. The best part is not the money they throw at you…yes it's good but that's not why I'm in the game. I'm in the game to ATTRACT OTHER SERIOUS NETWORK MARKETERS AND TO BUILD A HUGE DISTRIBUTION NETWORK, PERIOD!
But if they don't join my biz for what ever reason, thanks to My Lead System Pro I still have the ability to generate some extra cash flow. It's a beautiful thing!
My Lead System Pro Review: MLSP Solved My Problems!
Since 2009 I had been seeking a solution to my problem. I ran out of people to talk to. I could've quit like so many do. Instead I started looking for solutions. So I began researching online lead generation and in the summer of 2010 I jumped into MLSP with both feet.
After getting started I soon became frustrated. Not because I couldn't learn the strategies within MLSP, but because there was so much I wanted to do it all! I began generating leads my first day. and at the end of my first week I had generated over 20 new leads. MLSP was working like gangbusters.
Fast forward to now and I have a great foundation of knowledge and can fully create my own sales funnels and convert MLSP team mates into personal recruits into my MLM company.
I continue on a daily basis to apply the concepts and principles I learned within My Lead System Pro to further brand myself, build a stellar blog, learn how to communicate with different personality types, do online training webinars, and most importantly provide VALUE to those who truly need help.
Through all of this MLSP has helped me 'see the light'. I now realize how important relationship building is in this business. I have created some powerful relationships with leaders in this industry. Going back to what I said before, if you want to be the best, you had better learn from the best. I have aligned myself with the internet and network marketing industry's foremost leaders. What I learn, I pass on to you.
After applying all I have learned through myleadsystempro, my business is absolutely exploding. What's even better than that is that I am helping others to do the same in a big way. And after all…isn't what this industry is all about?
My Lead System Pro Review Review: Conclusion
In this My Lead System Pro Review it's easy to see that My Lead System Pro is hands down the best internet marketing system with real leaders behind the scenes who truly care about your success. We have the chief aim and goal to help others become the leaders they can be and catapult them to the highest levels of success.
Myleadsystem pro teaches you to become the hunted, generate multiple streams of income, create more leaders within your MLM company, develop powerful and lasting relationships with industry moguls, and become a true leader of leaders.
There is a catch however…Gotcha!!!
The only way to achieve all this greatness is that you have to be a person who takes ACTION. One of my favorite sayings of all time is "action breads confidence and courage. So get busy". Take action now. Don't allow yourself to become another statistic in this industry. Let's work together to propel you to success!
MY Lead System Pro Review: YOUR MLSP Success M. A. P. (MASSIVE ACTION PLAN)
Take action – sign up for MLSP's money back, no-risk trial!
Complete the getting started training in the MLSP back office.
Complete the marketing bootcamp in the MLSP back office.
Read Magnetic Sponsoring (Internet Network Marketing's Bible)!
Contact me to strategize a specific plan of attack to get you generating leads right away! (normally a $350.00/hour charge for FREE when you join my MLSP team)
Warning! Just signing up for MLSP doesn't guarantee success!
If you're one of those people with the 'lottery ticket' mentality then MLSP is NOT FOR YOU! This will require some work and some effort. Anyone who tells you different should be punched in the face!! (sorry, that's the martial artist in me coming out ;). If that's you, do yourself and me a huge favor and don't even sign up. I don't want or need the drama!

Small and consistent effort compounded over time is all that's required for Myleadsystempro success. Get busy and master ONE marketing strategy within the MLSP trainings. By doing so you will attract more people to you and ultimately you MLM company. Remember, you can have the slickest corporate replicated website in the world, but without proper knowledge of how to drive hoards of traffic to it, it will do you absolutely no good! Zero traffic = zero sign ups = zero money…
My Lead System Review: What now??
Simple, click the link below, opt in, sign up for the risk free trial and begin the learning process.
Make sure you receive my 1st email and if you can see yourself participating with the myleadsystempro community then let's get to work! Signup for MLSP and give it your full attention during the 2 week trial period. You will have access to me and any assistance I can provide you to steer you on your best course of action. I can also provide immediate feed back and support for your particular marketing campaigns. Let me help you set up a game plan so you start the right way, right away.
It's YOUR time…Don't continue procrastinating. Take action NOW!!
Click Here to Unlock the Most Powerful Weapon Available to Network Marketers!
Maximum Success,
Garry
P.S. If you enjoyed this My Lead System Pro Review, please comment below… and hit the Google +1 button!